PSPC Summer Mission Project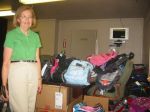 The Coachella Valley Rescue Mission will hold its annual Backpack Giveaway on August 28th for local children in need. This helps to ensure that they have a successful start to the new school year. You were so generous last year donating many items to fill the backpacks. If you would like to help again, the following items are needed to fill the backpacks:
Backpacks-pencils
Crayons - school glue/glue sticks
Felt-tip markers - erasers - protractors
Pencil sharpeners - safety scissors
Notebook paper - pencil holders
Colored pencils - blue/black pens - K-3 writing tablets
Dictionaries - spiral notebooks - 3-ring notebooks
Subject dividers - calculators
All items need to be donated before August 24th.
A box will be in the Fellowship Hall by the Mission bookcase for your donations.
Thank you,
Barbara, Brenda, Jackie, Susan & Margaret
The Mission Committee